Here at SURPRISE, we are off on our travels again this week, jetting off to Dresden in Germany, where we find our partner Fraunhofer Institute for Photonic Microsystems.
So where are we exactly?
We are in the east of Germany, in the capital city of the German state of Saxony. As you can see from the Copernicus Sentinel-2 satellite image, Dresden lies along the Elbe river, mostly in the Dresden Basin (a roughly 45 km long and 10 km wide area of the Elbe Valley).
We are in one of the greenest cities in Europe, with mountains to the south, the Lusatian granitic crust to the north and mountains to the east. We are south east of Leipzig (100km) and south of Berlin (165km).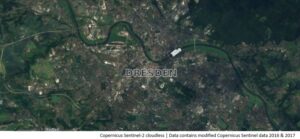 Why should I go to Dresden ?
Our trip to Dresden starts from our hometown in Florence, Italy. We are straight away struck by the fact that Dresden is known as Elbflorenz, or "Florence on the Elbe". This refers to the city's location on the Elbe river and its historical role as a centre for the arts and architecture, just like Florence.
The two cities had different golden ages, Florence during the renaissance and Dresden in the 18th century under August the Strong and his son, Friedrich August II, but the investments in art and architecture are strikingly similar. Sadly, much of Dresden was destroyed by bombing during the Second World War, so many sites are reconstructions of the original landmarks.
The Dresden tourist services suggests top ten sites to visit. Let's start from the Old Town (Altstadt), on the left bank of the river, the centre of city life. We can take a walk to the incredible Dresden Frauenkirche (Church of Our Lady) and to the Neumarkt Square, being reconstructed in its former baroque style. These are just two of the many attractions in this area, which is also the place to stop for a drink and something to eat.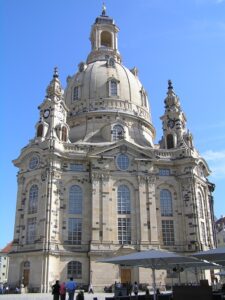 But even outside the centre, there is plenty more to do, from gardens, to the zoo, to museums.
Do you want a sneak preview of what your walk round Dresden might look like? Check it out here or take a 360° virtual tour here. Amazing…
So what about science and technology?
What about science and technology you ask??? Where do we start….Dresden is one of the most research-intensive cities in Europe. Let's just look at the numbers. Dresden is home to 47 research institutions, including 11 universities and colleges, 10 Fraunhofer institutions, 4 Max Planck institutions, 5 Leibniz institutions, 2 Helmholtz institutions and 1 Deutsche Forschungsgemeinschaft (DFG) research centre. The most important research areas include microelectronics and information technology, nanotechnology, materials development, and life sciences/biotechnology.
Did you noticed we mentioned both Fraunhofer and micro-electronics? Yes, that's right. Our fabulous SURPRISE partner is the Fraunhofer Institute for Photonic Microsystems (IPMS), one of 72 research institutes run by the Fraunhofer Society, Europe's largest organisation for applied R&D. With the 10 facilities and institutes, Dresden is Fraunhofer's biggest site.
IPMS's core competences comprise research, development, and pilot manufacturing of micro-electro-opto-mechanical systems. They also provide services in the field of nano- and micro-electronics with functional electronic materials, processes and systems, device and integration, maskless lithography and analytics. Carefully chosen as part of SURPRISE for the design of a MMA (Micro Mirror Array) that should work in the Visible-near infrared and in the Medium Infrared spectral range. These incredible researchers are going to propose a space-qualified Spatial Light Modulator, for our SURPRISE demonstrator.
And what about its residents? What do they say about Dresden?
They think it's great to live in Dresden, how could they not?! Besides being very beautiful city, remember we said that Dresden is one of the greenest in Europe? Almost two thirds of its area covered by forest and green space (so something it doesn't have in common with Florence!).
Dresden has about 560.000 inhabitants and is still growing, due to many young families living their and more people being attracted by career opportunities. It has become one of the most popular research destinations in Germany, convincing researchers from all over the world to live and work here.
In addition, Dresden is a very family-friendly city with a broad offer of cultural and leisure activities, which combined with its very good public transport system, makes it a very comfortable place to live.
Photos by Sara Francés González