The SURPRISE trip crosses the border from Italy into France (we are allowed to do that, if it's only virtually!) This week's destination is Sophia-Antipolis (France), home to our partner ACRI-ST.
So where are we exactly?
We are in the South of France, in the spectacular Côte d'Azur. Sophia-Antipolis is a technological park crossing over the local councils of Antibes, Biot, Mougins, Valbonne and Vallauris. If you take a look at the image captured by the Copernicus Sentinel-2 satellite, you can see the 2400 hectares of Sophia-Antipolis Technology Park located inland between the sea and the mountains, northwest of Antibes and southwest of Nice.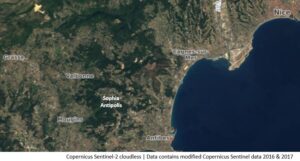 Why should I go to Sophia-Antipolis?
Sophia-Antipolis Technology Park was the first technopole in Europe, founded in 1969. But calling it a Technology Park doesn't really tell the whole story. Sophia-Antipolis was born around a vision of cross-fertilisation between research, education and industry. It now has a Business Pole and an ICT campus.
It is also managed in harmony with its beautiful surrounding environment. The park's Charter mandates that two thirds of the park are protected areas, creating a green crown around the built up area, and spaces for sport and for leisure. It also ensures that buildings respect a series of planning standards, in harmony with the area and there are significant investments in renewable energies, using photovoltaic panels to take advantage of the warm sun in the South of France. See it for yourself here.
So you visit the amazing Technology Park, you get inspired by the creation, the innovation and the environment. And after that, you are spoilt for choice! The world famous Côte d'Azur has beaches, protected areas, villages, gardens, and amazing culinary traditions. The list is really too long…..much better to check it out for yourself here or, until you can get there in person, take a drone trip!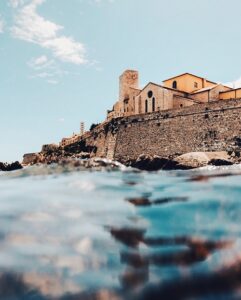 Photo by Michael Shannon on Unsplash
So what about science and technology?
Not for nothing is Sophia Antipolis nicknamed the French Silicon Valley!
We are talking about a world famous centre for innovation: 2230 enterprises (SMEs and start-ups, together with leading multi-nationals), 36300 people coming from 63 different nationalities, among which 4000 researchers and 5000 students. These are the numbers available now, but on average, the park creates around 800 jobs per year. High-tech and innovation across the board: many in the IT sector, but also health, chemistry, life science, environment.
Our SURPRISE partner ACRI-ST fits in just fine to this dynamic and innovative environment. Our partner is part of the ACRI Group: companies that provide services ranging from satellite remote sensing, ocean and land surveys to hydraulic civil engineering. ACRI-ST sustains R&D in satellite remote sensing of the ocean, coastal waters, shoreline, continental waters, land cover and land use, as well as features and dynamics modelling and data assimilation in models. And it is definitely worth giving a shout out to the fact that ACRI-ST is, for the third year running, a laureate of the National Women Equity Award.
The perfect partner for SURPRISE? We and the European Commission thought so too!
And what about the companies based there? What do they say about living and working here?
Working in Sophia Antipolis feels like entering a privileged area, when coming from the crowded cities of the shoreline (although traffic can be quite heavy). There are places to gathering for lunch, swimming, running, even playing golf. Bicycle lanes and pedestrian paths facilitate movement throughout the area.
When the weekend comes, it always feels like a privilege to access mountains or beaches so easily, especially during lower seasons: June and September are the best months.
It all sounds amazing….wish we could be there right now!! See you next week at our next SURPRISE destination.
Cover image by Ludovic Charlet on Unsplash